Services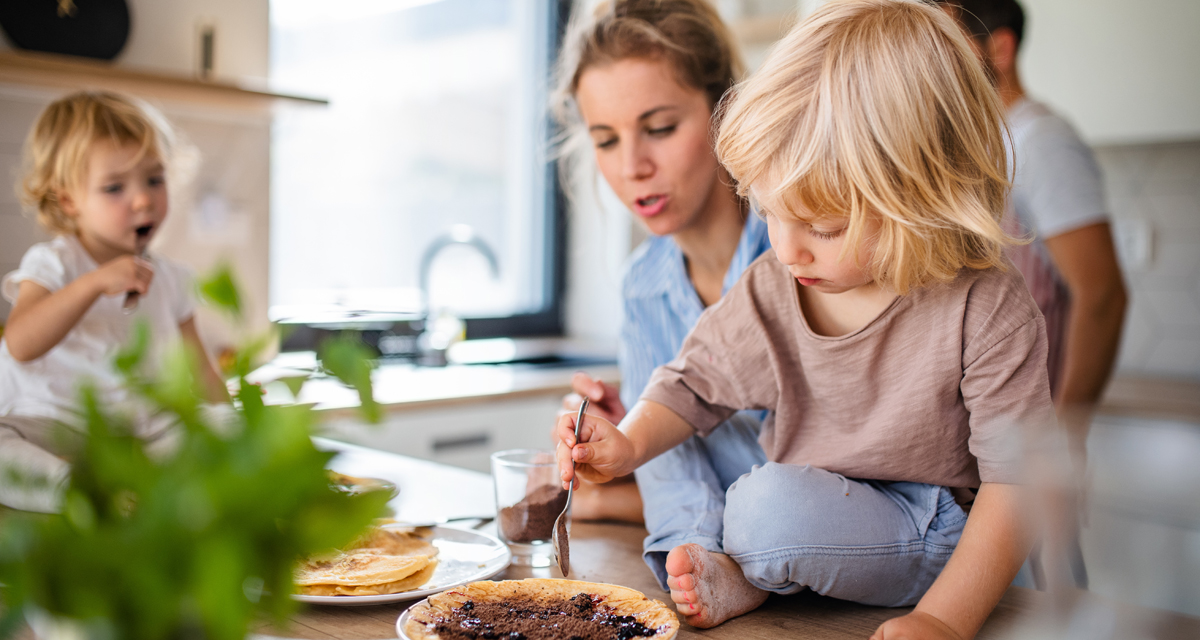 ---
Original Research
2023 Research Highlights
Zoomers and Boomers Find Common Ground
March 2023
A survey of over 2,000 consumers from Y-Pulse® (ypulse.org) found common ground between Baby Boomers and Generation Z when it comes to preferences in sharing meal experiences and food traditions.  
Boomers and Zoomers Agreed:
Sharing food experiences is important
Embracing food traditions is meaningful
The locavore lifestyle has value
2022 Research Highlights
Modern Parents 
October 2022
Parents of 4 – 17 year olds share their dining perspectives
Y-Pulse® (ypulse.org) research among parents of children 4 to 17 years old provides perspective on their expectations for food and dining at home and away from home. The parents who participated in the survey enjoyed culinary adventure in the foods they served at home or ordered from restaurants.
Read this study to learn more about:
What's on the minds of parents of K-12 kids about food and dining post-pandemic
The influence of chefs on their cooking at home
Resources that are helping build their culinary confidence in their home kitchens
Factors that influence restaurant satisfaction beyond the food experience
2021 Research Highlights
The Future of Campus Dining
March 2021
Foodservice Leaders Share Their Thoughts on Post-Pandemic Dining
Y-Pulse® (ypulse.org) conducted a nationwide survey among leading culinary professionals in college and university foodservice to gauge the current state of campus dining and the long-lasting impact of the pandemic. 74 campus leaders provided their insights on ever-changing business models, pandemic fueled challenges and opportunities expected to influence the future of campus dining. Campuses contributing to the survey operate 443 unique foodservice venues and serve over 1.1 million students.
Read this study to learn more about:
The operational and emotional impact of the pandemic on various campus foodservice providers and potential long term effects
Resources that culinary leaders on campus have found most useful to help them manage the pandemic conscious culture on campus
Support and resources vendors offered to help campus foodservice professionals through difficult times and the potential long term impact on relationships
Exclusive Dream Kitchen Survey® insight related to equipment and supply challenges and opportunities
2020 Research Highlights
The Mindful Dining Initiative® 2020
November 2020
Y-Pulse® (ypulse.org) conducted a nationwide consumer survey with 1,030 Gen Z and Millennial consumers about their attitudes towards health, wellness, ethical eating and dining at home and away from home. This study is the latest survey in The Mindful Dining Initiative® that began in 2014.
Read this study to learn more about:
Young adult perspectives on health and happiness in today's food culture
Opinions and preferences for cooking food at home versus dining out
Factors beyond product and price that influence food and dining decisions
How attitudes have changed over the years that these studies have been done
Understanding Pandemic-Era Consumers
June 2020
Y-Pulse® (ypulse.org) conducted a nationwide consumer survey with more than 800 Gen Z and Millennial consumers to gain a better understanding of the dining expectations, attitudes and tendencies of pandemic-era consumers away from home. The survey delves into the ways in which pandemic-related restrictions are likely to continue to affect young consumers' lives and the ways in which foodservice providers can meet their evolving needs. The first wave of this study was fielded in June 2020 and successive waves are planned for late fall 2020 and early 2021 to track evolving behaviors and attitudes of U.S. consumers.
Read this study to learn more about:
How young consumers are balancing healthy and indulgent options during the pandemic
What venue spaces young consumers prefer when dining away from home
The rise of cooking at home with a desire to learn new techniques and recipes
The increase of appreciation for foodservice
2019 Research Highlights
Modern Hospitality Study
August 2019
Y-Pulse® explored how modern hospitality and foodservice trends drive consumer preferences to patronize hotels and resorts for business, pleasure, and everyday. Data was collected from 547 18–34 year-olds to gain understanding of their preferences and interests regarding modern hospitality trends dealing with technology, community and atmosphere, and the personalization of food. In-depth secondary research and consumer interviews were conducted to focus areas of inquiry
Read this study to learn more about:
The importance of grab-and-go options for travelers in a hotel marketplace
Where young consumers prefer to dine while traveling
Preferences of service style and diet accommodations for young travelers
Fresh Perspectives Study
March 2019
In an effort to gain insight into what Gen Z and Millennial consumers think of as "fresh," Y-Pulse® launched a consumer survey, posing questions that probe into the mind of the consumer to uncover existing fresh perceptions. 365 18–34 year-old US consumers were surveyed about their perceptions of freshness and purchasing habits in retail stores, delis and foodservice settings.

Read this study to learn more about:
The top scoring characteristics that communicate fresh
How young consumers crave customization on their menu and prepared
Generational preferences for snacking, organic and convenience
2019 Trend Forecast
January 2019
Y-Pulse® explored the dining expectations, attitudes and tendencies of
more than 1,000 consumers between the ages of 18 and 34 years through multiple comprehensive consumer studies. Five food trends, ranging from ethical dining to multicultural menus were found to be extremely popular with younger consumers. These culinary trends are predicted to dominate menu development on college campus dining operations in the years to come.
Read this study to learn more about:
How young consumers are more interested in limiting certain ingredients than participating in highly regimented diets
The ethical concerns of young people when it comes to food sourcing and production
How young people want to eat healthy without compromising on taste
2018 Research Highlights
Foodservice Employee Customer Study
June 2018
The 2018 Foodservice Employee Customer Study is the first time Y-Pulse® has conducted a national study on foodservice employees. The study surveyed 1,468 adults ages 18-34 who have worked in the foodservice industry to explore both their experiences at work and their experiences as foodservice customers. Respondents worked in various foodservice operations including delis, casual dining, high-volume feeding, fast casual and quick-service restaurants, and in both front and back of the house positions.
Read this study to learn more about:
How current and former foodservice workers say their experiences at work have impacted their personal growth
How foodservice workers' experience in the industry impacts their decisions when dining out
Which foodservice segment has the most fulfilled and satisfied employees
Mindful Dining: The Modern Consumer
March 2018
Mindful Dining: The Modern Consumer is Y-Pulse®'s latest study in the Mindful Dining Initiative Project™. It surveyed over 490 consumers between the ages of 18-34 regarding their dining attitudes and expectations regarding ethical decisions, responsible business practices, health perceptions, social media use and the role of group dynamics. Consumers under 35 years have a strong interest in exactly knowing how their meals end up on their plate and how the restaurants they choose to dine at impact both their local and global communities.
Read this study to learn more about:
How dining as a group influences younger consumers' behavior and menu selections
How younger consumers' health perceptions are redefining wellness
Younger consumers' growing admiration for sustainable proteins and plantbased diets
Youth Lifestyle Monitor™
January 2018
2018 Kids might not be as absorbed by their smartphone as you might think when eating at restaurants, but stay assured they have a lot to say when it comes to their food experiences and what expectations they have. From restaurant cleanliness to parents' grocery shopping bags, our tech-savvy, fast food loving youngsters know what they want. In a world where community and peer influence prevail, make sure you adjust your offerings to the right consumer segment or a 15-year-old will tell you all about their new found food independence.
The study surveyed more than 900 kids from 8 to 18-year-olds and is called Understanding Tomorrow's Tastemarkers Today: Dining with K-12 Consumers.
Read this study to learn more about:
The ever-growing conflict between food adventures and the comfort of playing it safe
The surprising evolution of school cafeteria's reputation over the years
The adult-like expectations of kids when eating out
2017 Research Highlights
The School Meal Innovation Lab™
December 2017
The 2017 School Meal Innovation Lab™ created and evaluated 10 new school foodservice menu concepts with 900 K-12 students and compared their reactions with 1,020 adults.
In this unique dining study, Y-Pulse® (ypulse.org) worked with a team of chefs and dietitians to create restaurant quality menu concepts that meet school meal nutrition requirements. The study's participants evaluated these menu concepts through photographs and menu descriptions but without the knowledge that these meals are often served in schools.
Read this study to learn more about:
The top scoring menu concepts of kids and adults
Where participants expected to find these menu concepts
How kids and adults compared when asked about their expectations of finding these meal concepts in K-12 foodservice
The Modern Consumer: Understanding Tomorrow's Tastemakers Today
November 2017
This Y-Pulse® (ypulse.org) study examined dining experiences of millennial consumers (18-34 year olds) to dig deep into what drives the same consumer to very different types of food experiences outside the home.
To craft the survey, the Y-Pulse® team engaged with foodservice experts who regularly participate in trends surveys, but also included creative experts who work in important lifestyle industries such as fashion, architecture and fine arts. What emerged from this inquiry was an understanding of the importance of food experiences away from home and the influence of foodie culture among modern consumer lifestyles.
Read this study to learn more about:
Why millennials enjoy attending food focused events and how these reasons have lead to the rise in food halls and food emporiums
The ways in which foodservice operators should target nostalgia and sophisticated tasting adventures to achieve unforgettable experiences that modern consumers desire
The importance of food trust and sourcing local ingredients for millennial consumers
The Dream Kitchen Survey®
November 2017
Leading K-12 and college and university foodservice operators were surveyed to share their insights with us on their current operations. This survey was designed to help equipment manufacturers better understand the needs of foodservice operations, and is used as a guide for innovation.
Read this study to gain insight about:
Equipment that operators are using in the K-12 and C&U markets
Top causes of pain, frustration and aggravation for operators
Menu trends that are impacting equipment purchases
Equipment that is in demand for non-commercial operations
Research Highlights Archives
---
Culinary Innovation
The School Meal Innovation Lab® team includes chefs and dietitians with decades of experience in creating recipes that appeal to K-12 consumers and comply with the constantly evolving regulations of school feeding. The Culinary Visions® team of chefs are adept at creating recipes for a wide range of campus operations from residential dining to fast casual operations. The chefs, recipe developers and cookbook authors on the team also specialize in a wide range of international cuisines to feed the desire for global flavors among young consumers.